Nara is a small, little, tiny town which you can explore in a day unless you would like to visit every nook and corner of Nara. It's an hour from Kyoto or Osaka and you can make a day trip here and leave in the evening as most shops close as early as 4pm except for some eateries. By 8pm, it feels pretty much like an abandoned town. Streets are empty and quiet. I can imagine a zombie apocalypse here.
I was at Japan on a family vacay early of March and Nara was our first stop. We stayed the night there because we knew that it was a laid back town and my parents can rest after the flight from Malaysia. We didn't manage to go to a lot of places around Nara as a lot of time was wasted at the immigration (1-hour), collecting the JR Pass (45 minutes) and waiting for the next train to Nara. We reached Nara around 12.30pm and most places closed at 4pm. That's literally 3.5 hours to visit Nara including hunting for lunch.
Although I missed out a lot of places, I'm going to list out what I think is the best route for a 1-day trip around Nara. Be sure to reach there early!
You can walk around Nara for the whole day or buy a 1-day bus pass for ¥500. You can purchase the day pass from the train stations. There are 2 main stations in Nara -
JR Nara Station
and
Kintetsu Nara Station
. Kintetsu Nara Station is the preferred station as it is nearer to the attractions but JR Nara Station is not that far either so if you have JR Pass, just head to JR Nara Station.
JR Nara Station at night.
View opposite JR Nara Station.
Just le sis and me (the photographer) at the Kintetsu Nara Station.
You can start the day visiting
Kofukuji Temple
and
Sarusawa-ike
which is a lake located directly opposite it.
Kofukuji
used to be the family temple of the Fujiwara, the most powerful clan during the Nara and Heian Periods. The temple was established back in 710. There's a 5-story pagoda and 3-story pagoda here.
The 5-story pagoda.
The entrance to the temple ground is free but there are 2 areas that require entrance fees ~
The National Treasure Museum
and the
Eastern Golden Hall
. The National Treasure Museum is under reconstruction scheduled to be ready in 2018. We decided to skip the Eastern Golden Hall.
You can get a clear reflection of the Kofukuji pagoda at Sarusawa-ike if the weather is good.
While you are there, do head to the famous mochi shop -
Nakatanido
which is less than 5 minutes walk away. It is a corner shop.
I missed the mochi pounding so do check this video out:
The mochi is so soft, chewy and moist. It's priced at ¥130/pcs.
Different flavoured rice crackers are available at the same shop. Crispy and yummy.
From here, you can head to
Isuien
and
Yoshikien Garden
. We skipped both places because the weather is still cold but photos of them during full blossom and Autumn are amazing.
Isuien. Photo credit: Wikipedia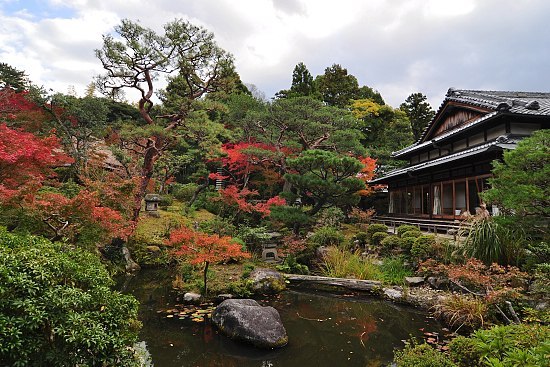 Yoshikien Garden. Photo credit: Japan Guide
After this, you can head for an early lunch before going to
Nara Park
.
Oh dear... Deer are roaming around freely here. They are considered national treasure.
Hello deers...
Don't come near me k... The deer are quite tame but can be aggressive if they think you are feeding them food. I ran away few times from the deer.
Walking ahead is
Todaiji (
東大寺)
or the Great Eastern Temple. An entrance fee of ¥500 is required.
This place is famous for its massive Great Buddha statue, commonly known as Daibutsu. The temple was founded in the 8th century. It was burnt down twice and the present structure was rebuilt in 1709 (two-thirds of its original size) and still remain as one of the largest wooden structure in the world.
There's this super huge pillar with a small hole. Everyone was trying to crawl through the hole.
Pic above taken when a little girl was crawling out of it. Imagine an adult squeezing through the hole. I consider myself small in size but it was kinda hard to squeeze through it. Went back to the hotel and Google-d about this hole in the pillar. Apparently it is said that those who can squeeze through this opening will be granted enlightenment in their next life.
Caption on the statue: Binzuru (Pindola Bharadvaja) Wood, 18th Century.

Pindola was one of the 16th arahats who were disciples of the Buddha. Pindola is said to have excelled in the mastery of occult powers. It is commonly believed in Japan that when a person rubs a part of the image of Binzuru and then rubs the corresponding part of this own body, his ailment there will disappear.
Heading up to
Nigatsudo Hall
.
Nigatsudo Hall (二月堂) is one of the important structures of Todaiji. It's located to the east of the Great Buddha Hall, on the hillside of Mount Wakakusa. It includes several other buildings.
Additional photos around Todaiji and Nara Park
After Todaiji, it is recommended that you go to
Kasuga Taisha Shrine
. It is Nara's most celebrated shrine. Established at the same time as the capital, it is dedicated to the deity responsible for the protection of the city. Both the paths to the shrine are lined with 2000 stone lanterns and the eaves of the shrine are decorated with thousand hanging bronze lanterns.
Photo credit: inishiejapan.com
Photo credit: www.annees-de-pelerinage.com
Enough of temples and parks hopping, you can head to Naramachi. Naramachi is the former merchant district of Nara. Many of the buildings were preserved since the Edo Period. You will find here several traditional residential buildings and warehouses that are preserved and open to the public. I reached at 4.45pm and the place has closed but still we took some photos before leaving...
Photography during the day would look a lot better.
Photo credit: Triplelights.com
I guess by the time you visited all the place, it would be 4pm. You can call it a day after Naramachi.
Feel free to drop me a comment if you have any questions.